I'm staring out at the ocean from the porch of my rental beach house, wishing I were a writer so I could type something romantic and profound. But a writer I am not. So instead I must quote other
talented
individuals' romantic and profound musings.
Finished reading
The Guernsey Literary and Potato Peel Pie Society
by Mary Ann Shaffer and Annie Barrows. It was a perfect beach read, and I was completely absorbed in it (while absorbing the sun) for two days. What a gorgeous book. It had its cliché moments, and I could see the ending from a mile away (what a cliché thing for me to say!), but it was great storytelling. And every now and then, you really crave a good story. And the characters were wonderful. The kind of people you wish actually existed (or wish you yourself could be), but only exist within the pages of a novel. Alas.
Here are some passages. Most of them are random and may not make much sense out of context. But I found them hilarious/meaningful, so bear with me.
"I'm not certain that my scruples could withstand the sight of handmade shoes. If I ever do meet him, I'll take care not to look at his feet—or I'll lash myself to a flagpole first and then peek, like Odysseus."
"I don't believe that after reading such a fine writer as Emily Bronte, I will be happy to read again Miss Amanda Gillyflower's Ill-Used by Candelight. Reading good books ruins you for enjoying bad books."
"I'm going to step into the meadow of wildflowers right outside my door and run to the cliff as fast as I can. Then I'm going to fall down and look at the sky, which is shimmering like a pearl this afternoon, and breathe in the warm scent of grass and pretend that Markham V. Reynolds doesn't exist.

I've just come back indoors. It's hours later—the setting sun has rimmed the clouds in blazing gold and the sea is moaning at the bottom of the cliffs. Mark Reynolds? Who's he?"
"This obsession with dignity can ruin your life if you let it."
"Friends, show me a man who hates himself, and I'll show you a man who hates his neighbors more! He'd have to—you'd not grant anyone else something you can't have for yourself—no love, no kindness, no respect!"
No respect! No respect at all! /dangerfield
Now I have moved on to Tracy Chevalier's
Remarkable Creatures
, which is about fossil hunting on the beach. This seems appropriate considering my environment. Chevalier's book is one of many I recently picked up at bookstores near the beach. Just to show how much of a nerd I am, the first thing I do when planning a trip is scout for every indie bookstore within 50 miles of my destination. (NERD!). Oddly enough, none of them had cats roaming the shelves. But the majority stocked various cat memorabilia (I wonder what they're trying to say? Hmmm).
My favorite find was a 1949 copy of
The Painted Veil
by the early mass market publisher Pocket Book.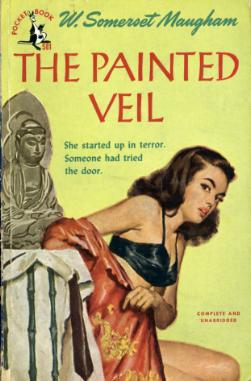 The cover is so inappropriate and wonderful. I love that Maugham has been pulp-fictionalized.
But here are all the titles I bought:
Does zombie lit and a vegan cupcake cookbook clash? Oh well.
And here are the stores I visited who had websites:
http://www.aziomedia.com/
http://www.pelicanbookstore.com/
http://www.pombooks.net/
http://www.twosistersbookery.com/
Okay, one more thing. I also read the first in the series of Bryan Lee O'Malley's
Scott Pilgrim
graphic novels, and one part in particular made me guffaw:
A DuckTales reference!? Absolutely brilliant.