My good friend Dusty from the blog Dusty On Movies was kind enough to share his review of Dan Smith's memoir Burning the Furniture with me. So put down Justin Bieber's latest book and read about someone who's had actual human experiences.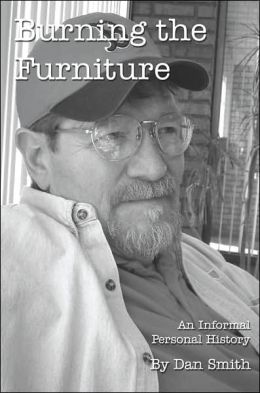 Everyone has an interesting life story. If you really get to know someone you'll find they have a fascinating history regardless of class or race. Not everyone, however, is fit to write a memoir. A good memoir requires a writer with both talent and courage. "Burning The Furniture" shows that Dan Smith has both in spades.
Dan has been writing and editing various local newspapers and journals for a long time. Currently he's the editor for Valley Business FRONT Magazine and offers some personal thoughts and opinions on his blog. He's also responsible for putting together the annual Roanoke Regional Writer's Conference, which sold out this year. My interest in local writing and journalism steered me towards Dan's writing, especially his blog where we could argue and debate all sorts of things.
It was probably the numerous blog visits that led Amazon.com to list "Burning The Furniture" in my suggested reading. Everyone knows that Amazon and Google keep close watch over where we visit so they can pester us with ads more accurately. In this case they did a good job. I bought the memoir for $3.99 in Kindle format and let Dan know about the purchase. He was happy to hear I was reading it, but shocked to find out it was now an ebook since he hadn't been notified of its conversion.
Prejudice is so easily formed. I had all sorts of notions about Dan's background and upbringing with zero facts supporting them. It turns out that his story was much deeper than I could have ever expected.
Dan's story starts out with poverty. He had seven siblings, an alcoholic father who died when Dan was 13, and a mother who suffered from depression and agoraphobia. His mother often couldn't pay rent and was always ready to move as eviction drew near. Growing up as a carny would probably have required less moving.
I was particularly moved by Dan's account of taking his black friends to a public swimming pool. At that time and place it was simply unheard of. When they arrived the local swimmers assaulted Dan and his friends with rocks. Dan was appalled. His friends weren't surprised. He found a sheriff by the side of the road and reported the incident. He got this response:
"Let me tell you boys something," he said as level serious as he could get. "We don't take to white people and niggers mixing here in McDowell County and we don't take to niggers swimming in our water. You'uns is lucky you didn't get killed back there and if you stay around here much longer or even think about coming back, that just might happen. Now you nigger-lovin' trash just git on out of here."
And Dan's reaction:
I don't remember ever before or after being as angry as I was at that moment. My face felt hot and my body shook with rage. I glared at that tall, thin, red-haired trooper with the Smoky the Bear hat, knowing that if I lost my temper we would all suffer a lot more than we had. Coot reached over and put his hand on my arm. I slammed the gearshift lever into drive and threw gravel behind us as we sped away. "Goddammit!" I screamed. "What kind of country is this? Who the hell are these people?" I pounded on the steering wheel, even as I floored the accelerator.
For sure, things have gotten better since then. Still, I find myself reacting this way far too often in today's society.
As the story continues, Dan's courage reveals itself even more. The mistakes of childhood can easily be recalled then brushed off as a youthful indiscretion. To write about your struggles in adulthood takes a lot more gumption. Dan attacks his struggles head on: alcoholism, failed marriages, fatherhood regrets, lost jobs. He leaves no stone unturned. This also becomes a source of inspiration because he sobered up, has a career, and has a good relationship with his kids and grand kids. Everyone faces adversity and makes mistakes, but not everyone has the character to face that adversity and learn from their mistakes. Even fewer have the ability to write about it eloquently. Dan Smith is one of those few.
Memoirs are mostly successful based on the name value of their authors and not their inherent quality. Personally, I'd rather read a great memoir from a local author than some ghost-written fluff piece from a celebrity. I'm sure Arnold Schwarzenegger's memoirs will always outsell Dan Smith's, and that's a damn shame. "Burning The Furniture" is short, but satisfying. You won't regret investing your time in this one.